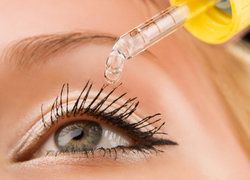 Eye drops are an important component of the LASIK surgical process. During LASIK eye surgery, special eye drops are used to improve and maintain patient comfort. After LASIK, prescription eye drops are used to reduce the risk of infection and speed healing. At GW Eye Associates Inc. in San Diego, we educate our patients about the different types of eye drops that we use during and after LASIK surgery. Knowing what to expect, along with the benefits of eye drops, helps patients feel more comfortable with undergoing a surgical procedure. In this blog post, the doctors of GW Eye Associates Inc. offer an overview of the eye drops that we use for LASIK patients.
Eye Drops Used During LASIK Surgery
Perhaps the most feared part of the LASIK procedure is the stage in which the corneal flap is made and the cornea is reshaped. Although these processes often take less than two minutes per eye, many patients fear the contact with the eye so much that they choose not to undergo LASIK surgery. The doctors at GW Eye Associates Inc. seek to ease patient fears and apprehension by educating them about the surgical process, and the steps that can be taken to alleviate those fears.
Numbing Eye Drops
A local anesthetic, in the form of numbing eye drops, is applied to eliminate pain during the LASIK procedure. Once the anesthetic has taken effect, the surgeon will proceed with the surgical stages of treatment. Any microkeratome or laser contact with the eye produces a feeling of light pressure, but patients do not experience pain. The numbing eye drops, paired with the quickness of the procedure, make LASIK treatment as pleasant as possible for patients.
Eye Drops Used after LASIK Surgery
After LASIK surgery, our doctors will prescribe two types of eye drops, and recommend that patients purchase over-the-counter lubricating eye drops. The eye drops that are used after LASIK surgery include:
Antibiotic eye drops: Antibiotic eye drops play an extremely important role in the healing process. These eye drops greatly reduce the risk of infection. After LASIK surgery, patients should apply the antibiotic eye drops as directed. Typically, the antibiotic eye drops are used for about a week.
Steroidal eye drops: Steroidal eye drops improve patient comfort and reduce inflammation. These drops are used for up to two weeks.
Lubricating eye drops: Lubricating eye drops can be purchased at drugstores, grocery stores, and pharmacies. These eye drops can relieve dry, itchy, scratchy eyes, symptoms that are common side effects of LASIK surgery. Lubricating eye drops should be used according to the manufacturer's directions. These eye drops may be used for up to three months after LASIK surgery.
It is important that patients follow their LASIK surgeon's post-operative recovery instructions to the letter, and use eye drops as prescribed.
To schedule a LASIK consultation and find out if you are a good candidate for treatment, contact GW Eye Associates Inc. Our staff can perform a LASIK screening and advise you of your treatment options.
Related to This