Hard vs. Soft Contact Lenses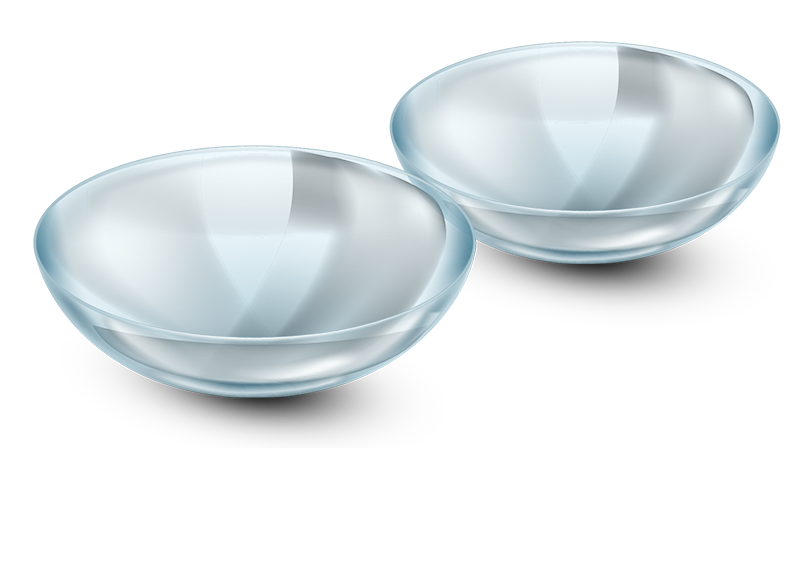 According to the Centers for Disease Control and Prevention (CDC), 45 million people in the United States wear contact lenses. This alternative to prescription glasses can address all sorts of vision issues, including myopia (nearsightedness), hyperopia (farsightedness), and astigmatism. Our offices in Del Mar and La Jolla, CA offer hard and soft prescription contact lenses to improve your vision quality/clarity.
Dr. Gordon Wong and Dr. Wildon Wong would like to take a moment to compare the advantages and disadvantages of soft and hard contact lenses. This can help you determine which may be the right option for your needs.
About Hard Contact Lenses
Hard contact lenses have been around since the 1940s, but they have come a long way since then. Modern hard contacts are made from rigid materials that hold their shape when placed over the cornea. There are different kinds of hard contacts, though most today are rigid gas permeable lenses. These are slightly more flexible than the hard contacts of the past.
The Pros and Cons of Hard Contacts
The biggest advantages of hard contact lenses include:
Crisp, clear vision
Very durable
Easy to care for
Last for a long time with proper handling
Able to treat astigmatism, keratoconus, and other issues with corneal shape
The biggest disadvantages of hard contact lenses include:
Potential to become scratched
Can get dislodged from its position on the eye
Debris can accumulate under the contact lens
Takes time to get used to them
About Soft Contact Lenses
First available in 1971, soft contact lenses are made of flexible, breathable plastic materials. They are usually disposable after a day to a week, making them much easier to care for and replace. The CDC estimates that 90 percent of all contact lens wearers have soft contact lenses. In fact, the majority of the people we see at our La Jolla practice are interested in soft contacts.
The Pros and Cons of Soft Contacts
The biggest advantages of soft contact lenses include:
More comfortable to wear
Stay in place on the eye better than hard contacts
Easier to adjust if they budge out of position
Easy to put in and take out
The biggest disadvantages of soft contact lenses include:
Higher risk of infection than hard contacts
Could be more expensive in the long run due to need for replacement
A Word on Hybrid Contact Lenses
There are also hybrid contact lenses available, which we should mention. These types of contact lenses have a soft outer rim and a rigid inner portion of the lens. This provides the comfort benefits of a sot contact lens and the crisp vision benefits of a hard contact lens. It's an ideal option for people who suffer from corneal astigmatism and other issues.
Helping You Find Your Ideal Kind of Contacts
As you can see, there are many different considerations when it comes to contact lenses. When you visit our offices serving the La Jolla area, you can discuss your concerns with our eye doctors. During the consultation process, we will be able to help you make the most ideal choice based on your needs.
Learn More About Contact Lenses
To learn more about contact lenses and which type may be right for you, be sure to contact our eye care specialists and vision doctors. Gordon Wong Eye Designs & Optometry can be reached by phone at (858) 454-4699.
Related to This